After 6 months of research, 4 months of searching through OzFoz and Rexnet, and 2 months waiting I finally picked up my MY11 Pearl XTPM at lunchtime.
Choices were:
- 2006 Audi RS4 Wagon - Favourite Car - V8 Twin Turbo - $80k (from $160 new) - Fuel/tyre/maintenance/insurance costs
- MY11 WRX STi - 3 kids and a job as a sparkie put a stop to this one, also can't put a tow bar on it
- MY11 WRC Blue S Edition - Loved the colour but test drove it and hated the auto
- Dazzz168's MY09? Pearl XTPM - Missed out by a few days - would have saved a packet over this one.
I'll have it for a few days before it goes in to Autotech for a $10K tuneup (needed to do it in the lease), so the gear I got off Subaru was:
- Subaru Alarm
- Thule Roof Racks (they'll be coming off until I need to put a ladder on!)
- Towbar
- Weathershields
- Floormats, rear step protector and cargo area protector
- Subaru Mesh Grille
- STi Lip Spoiler (with a 20mm x 5mm STi badge
)
First DIY mod will be to fit the 2 x OzFoz stickers I've had sitting at home for a month
while waiting for the car to arrive, then the front window tinting and probably a short shifter (waiting to hear from Ultrex).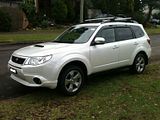 HUGE 20x5mm STi badge on the front spoiler
It'll go into Autotech in a few days for the following:
- Whiteline RSB, FSB and ALK + wheel alignment
- X Force TBE.
- HSD Coilovers
Then I need to decide between (a mix of) tune plus:
- Front and rear slotted rotors, ceramic pads, braided lines (and maybe brembos and rims to suit - Rotas?
- CAI, Upgrade Turbo and Intercooler
I'll post some pictures as soon as I get them and the photo hosting site up and running

_________________


strubaru wrote:

i tripod out of bed most mornings, morning glory ftw
mikthedinosaur wrote:
Man if it makes 280 and is on 20 something psi boost in the 2k rpm range ill be harder than a pedo in a playground
WL FSB/RSB+HDlinks & ALK; X Force dump, STi mid, magnaflow cans; STi/KYB suspension, TS BOV, VF52, PW TMIC, DBA4000s, PB 3 port, Perrin inlet, TH tuned
13.076 @ 170kph
http://ozfoz.com/forum/viewtopic.php?t=27496