Where it all began
Hi all. About time I think I should show off my GT. But a little bit of history first.
My Subaru days started back in 2001 when I purchased a 98 Liberty RX Wagon... loved that car! It remained stock thoughout ownership.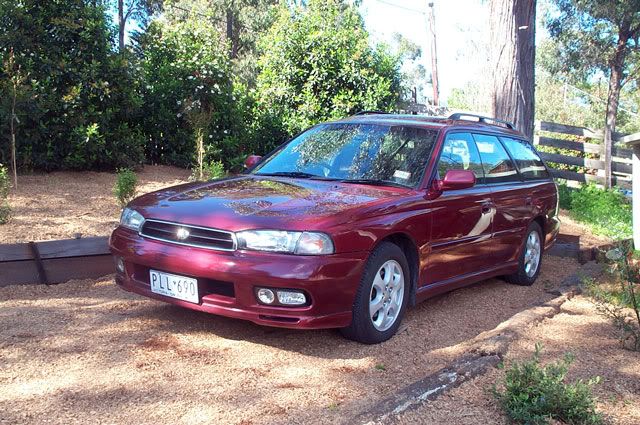 Enough about the Liberty... after a few engine troubles, this and a newish Suzuki Swift were traded for a completely standard Forester GT in 2007.
To be honest, I wasn't a real fan of the Forester when they first came out. I was more inclined towards late 90's Libertys/Legacys than anything else in the Subaru range. I spotted a few modded Foresters around... and one particular Black GT up near Bright. Low and loud, burbling around an empty road pre-season. From that day... I just wanted one.
Part 1: Forester GT MY02 Auto
Ended up purchasing this Forester GT. Paid a mere fortune for it though, but I received a good price for the trade-ins... this image below was from CarSales.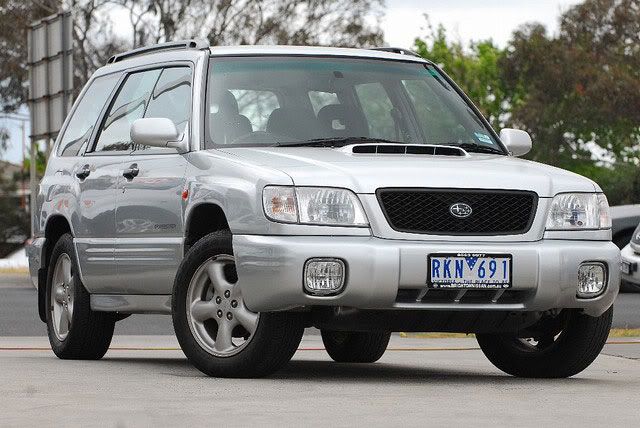 A day on Google, I found a lot of information regarding modifying Foresters... downloaded Wilmo's
How to modify your Forester
document and started reading. I also joined GTrydaz almost immediately, introduced myself and was instantly
hooked
in trouble.
Modifications performed were:
• Resonatorectemy
• Diffback X-Force oval muffler
• Clear side markers
• Chromed bulbs
• Momo STi Steering wheel
• Smoked Thick F-Badge
• 02 WRX Struts
• King Low Springs
• 22mm Sway Bar and HD Mounts
• F&R Strut Braces
• MRT Brake Cylinder Stopper
• Turbotech MBC
• Autometer Boost Gauge
• Silicon Short Fat Bit
• PMD Splitter & Blanking Plate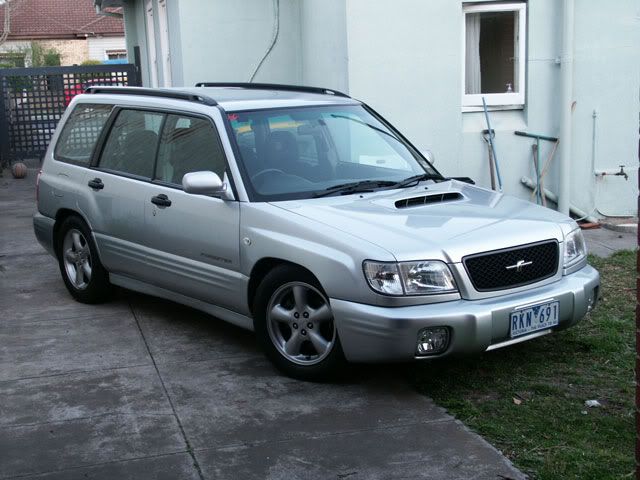 Started collecting a few more goodies that were to be installed:
• Full Pete_Mac Silicon kit in Red
• TD04* then later purchased a VF28*
• MRT SS Turbo Back Exhaust*
• STi 02 Intercooler (polished)*
• Walbro Fuel Pump*
• Ferodo Brake Pads*
• Catless Up-pipe
• Gen3 Liberty Mud Spats
• Oil Catch Can
• PMD Engine Bay Bling Kit*
• FB Scoop*
• Gauge Pod*
Unfortunately, a break down in my marriage caused me to give up the Forester, return it to stock and sell all my parts.
(* parts sold)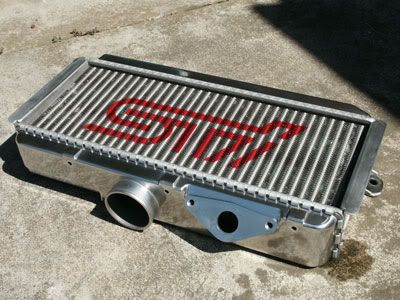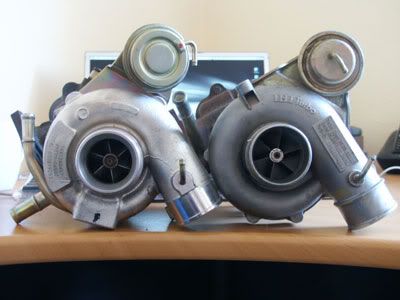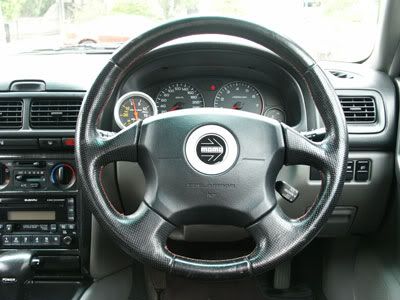 Clockwise: Spent many hours polishing my 02 STi Cooler; My two turbos... TD04L v's VF28; Momo STi Wheel with cruise mod; Baby X-force muffler.
∞
Part 2: Forester GT MY01 Manual
I was made aware of a Forester GT with high KM's going cheap... I didn't believe I'd be looking at another Forester so soon and alas, peeved that I let my parts go. Oh well.
So... took this Forester for a spin and bought it the next day. Handed over a cheque for $10,000 and she was mine.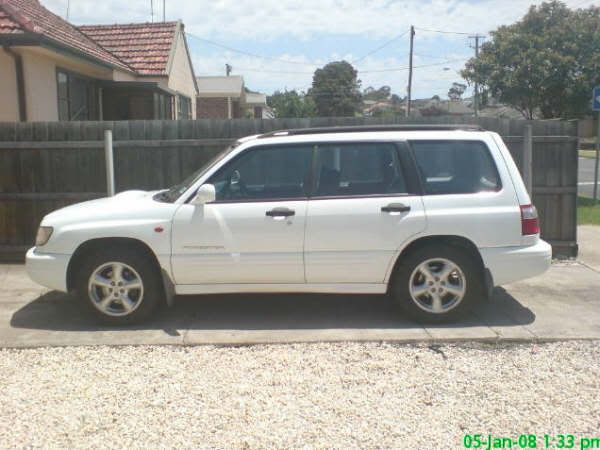 This is an image I was emailed from the seller.
Happy that I still had the parts on the MY02 and a few items that didn't sell on eBay, I spent a couple of days swapping the bits over to the MY01.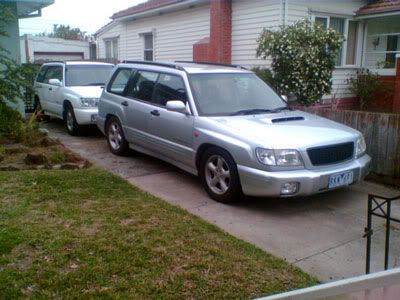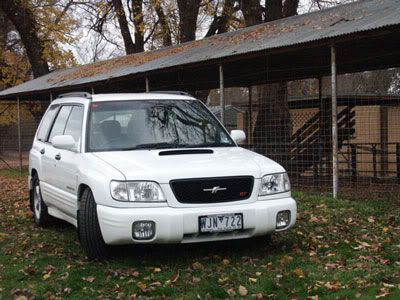 Two Fozzes in the driveway!; Photo at Castlemaine Footy Oval
As it stands today, it's as it was with the Silver MY02, with the exception of the
Custom OEM Grille
and a short-shifter. See link for pics.
Again, I have been recollecting parts again, this time on a much tighter budget:
• 02 WRX Intercooler + BOV
• 00 WRX 16 Rims
• Another TD04
Hoping to install the above along with the bits that I still have from "Part 1" soon.
Thanks for looking...
Ed: well that's it for my opening post... but as time progresses, I'll be editing the first post with updates.
You sprout garbage like that Schermann, Silvia, Georgie, Troyy, Dutchy bloke used to.