Hi all, here is my standard right up.
HISTORY
: I started life with the foz as many of u know, a bog stock 04xt. Bought it at the end of 06, 1 female owner, immaculate inside n out, very low km's n full service history.
Bought for practicality more so than the desire to own one.....now in love
210 atw kw 19psi.
Ringwood Park hill climb PB 33:22 Dry, PB 38:15 Wet
Latest pic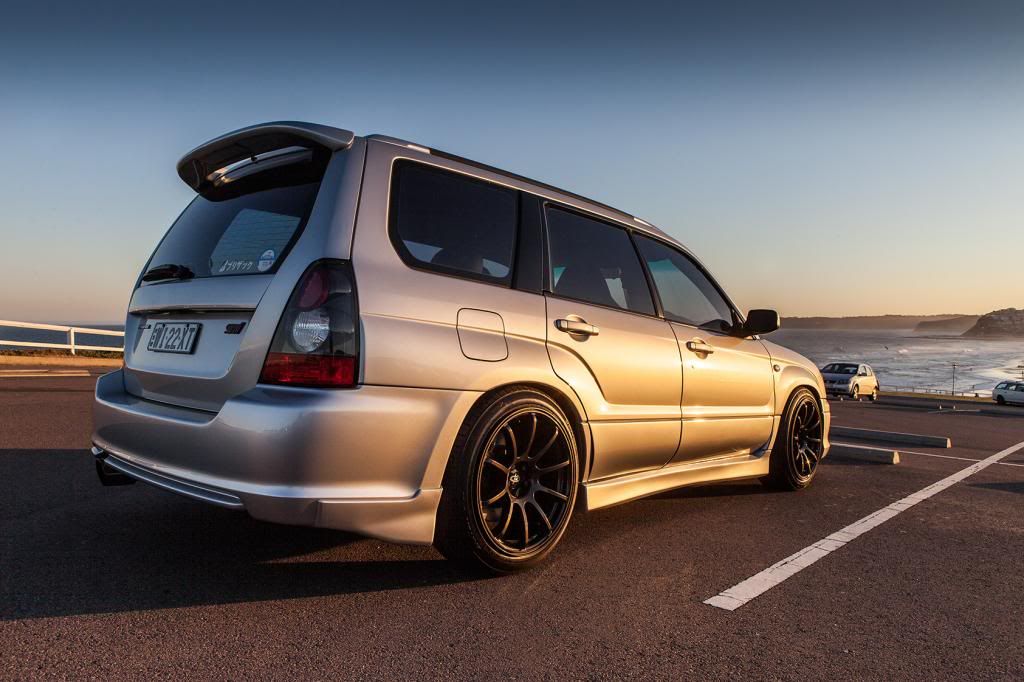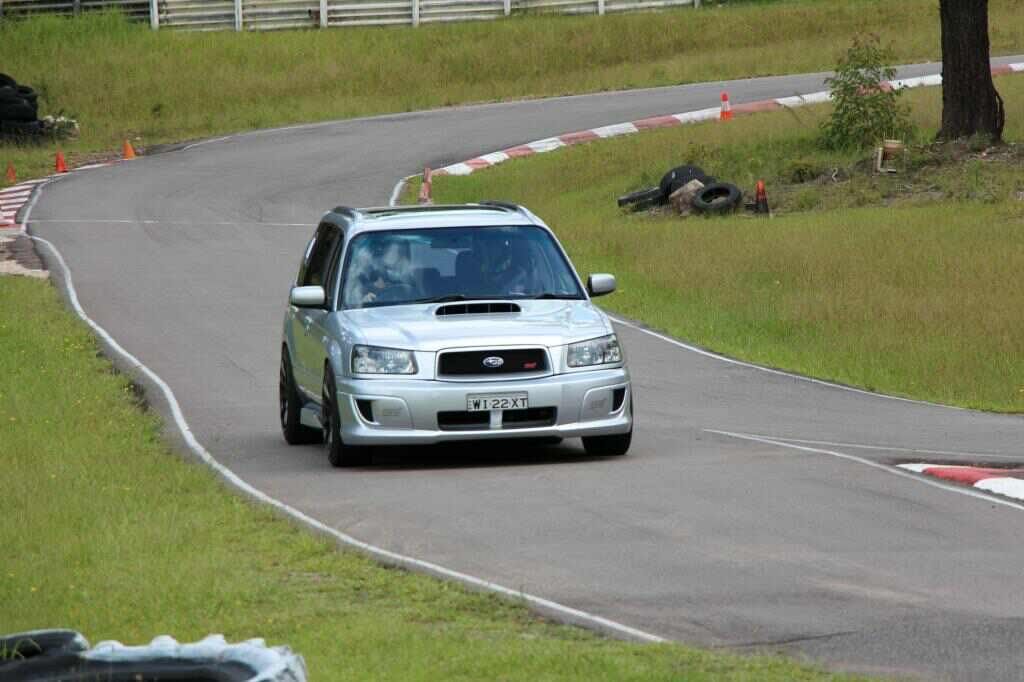 Modds at present
EXTERIOR
De badged
Colour coding
Ultrex skirts
Ultrex rear wing
Sti grill
Sti front bumper
Sti rear bumper
Sti rear pods
Sti tail lights
Sti scoop
Sti lower exterior plastic door panels
Narva headlight bulbs
HANDLING
Steet= Rota Gforce 18x9 +35 Bridgeston Potenza RE001 225 45 18
Track= V7 Sti 17x7.5 Toyo R888 semi slicks 225 45 17
Pedders Extreme Coilovers
Rays Eng wheel nuts
Whiteline 22mm FSB
Whiteline 24mm RSB adjustable
Whiteline 24mm RSB laterial lock kit.
Whiteline HD mounts
Whiteline alloy end links front n rear KLC32
Whiteline anti lift kit KCA362
Whiteline roll centre kit KCA313
Whiteline diff support bushes KSB751
Whiteline rear camber bolts KSA414
Whiteline steering rack bushes KSR200
Sti Spec C quick turn steering rack
Sti GDB front control arms
Sti SG9 trailing arms
Sti SG9 alloy lateral links
Sti SG9 titanium strut brace
Sti SG9 lower arm bar
Sti SG9 Brembo's f/r
DBA 5000 front rotor's
EBC red pads
Braided break lines
Cusco master cylinder brace
Beatrush rear strut brace
Beatrush diff brace (in Sti pink)
Kartboy rear subframe lock bolts
MOTOR
Process West CAI
AVO silicone one piece inlet
Process West top mount cooler
Throttle body coolant bypass mod
Sti auto n manual I/C (custom) sprayers
Sti bov
Sti ported inlet manifold
Sti Spec C TGV deletes
Sti ported exh manifold with Grimmspeed cross pipe heat wrapped
Sti cat less up pipe heat wrapped
Sti VF34 p18 ported wastgate by MSR
Turbo beanie
Xforce ss bell mouth 3inch dump pipe MSR splitter heat wrapped
Custom ss mid pipe Xforce race cat
Hitech ss 2.5inch diff back
Sti Spec C anti surge fuel baffle
Walbro fuel pump
Adjustable fuel reg
Parallel fuel lines with Pyroshield cover
MRT fuel rails
Sti 550cc injectors
Grimmspeed 8mm phenolic spacers
Grimmspeed air oil separator
Grimmspeed light weight crank pulley
Grimmspeed 3 port boost solenoid
Beatrush alloy pitch rod
Golpher alloy radiator
Filter mag
PMD blanking plate
Lolzer race plugs
Odyssey dry cell battery
INTERIOR
Sti steering wheel
Sti SG9 gauge cluster
Sti genome boost gauge
Sti front seats
Sti I/C switch
WRX foot pedals
JVC iPod compatible head unit
CAMS fire extinguisher
Plan to get a little more track time n surprise a few "fast cars"
Old pic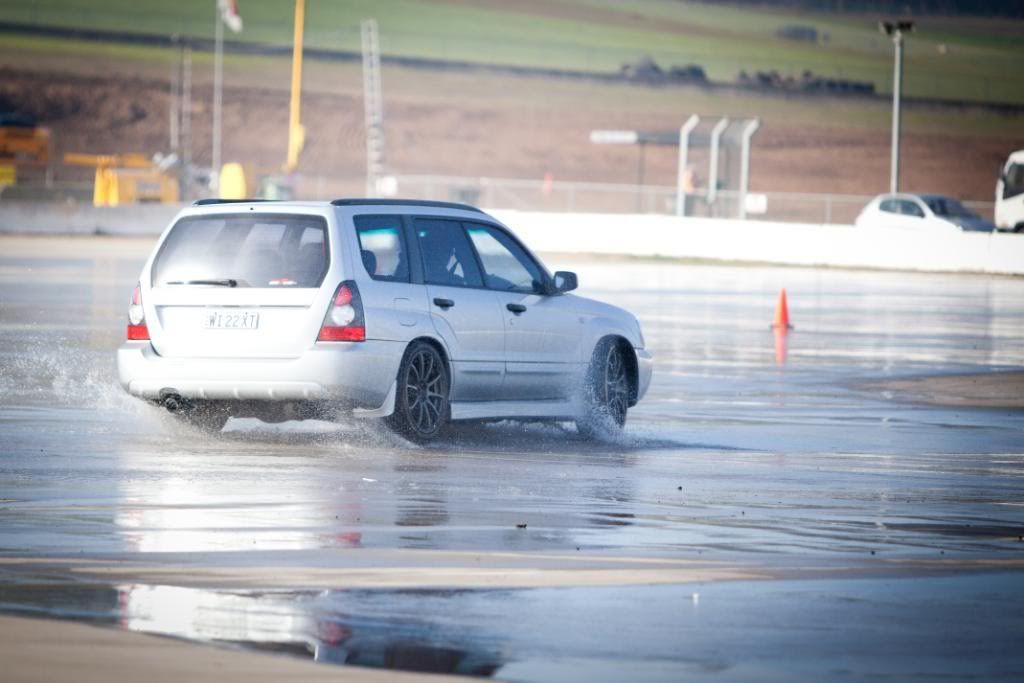 Future mods
Rear diffuser
Sti centre console
Dreaming....
Built motor to handle a reliable 300-350kw, maybe on E85. Or maybe I need a dedicated track car